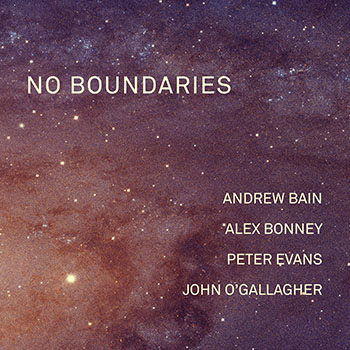 All About Jazz, Friedrich Kunzmann
20 Nay 2020
Album Review: Andrew Bain's No Boundaries
"No Boundaries offers some of the most exciting and forward-thinking improvised music out there today."
more...(external link)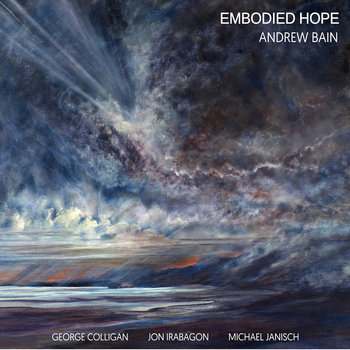 All About Jazz, Roger Farbey
6 November 2017
Album Review: Andrew Bain's Embodied Hope
"Bain's skilled and memorable compositions on Embodied Hope are expertly executed with first rate playing and shimmering moments of sheer brilliance."
more...(external link)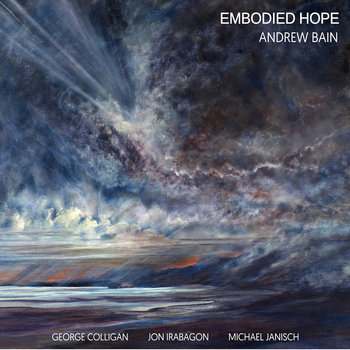 London Jazz News, Peter Bacon
19 December 2017
Album Review: Andrew Bain's Embodied Hope
"A rewarding listen that gives a bit more every time I press Play."
more...(external link)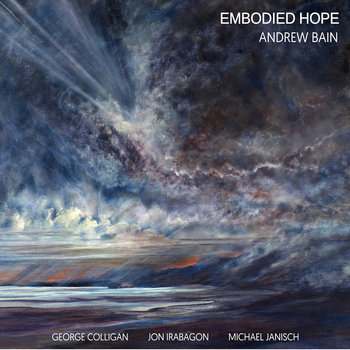 The Guardian, John Fordham
30 November 2017
Album Review: Andrew Bain's Embodied Hope
"...Bain has an intriguing work-in-progress with this fine group."
more...(external link)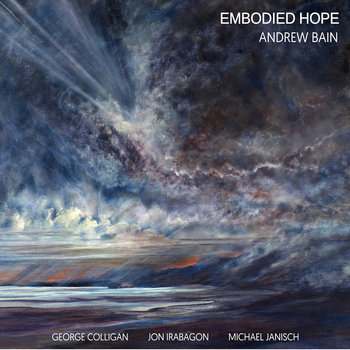 The Jazz Mann, Ian Mann
14 December 2017
Album Review: Andrew Bain's Embodied Hope
"Let's hope Bain gets the opportunity to tour this material again."
more...(external link)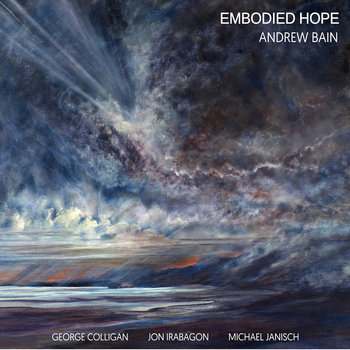 Bebop spoken here, Lance
14 December 2017
Album Review: Andrew Bain's Embodied Hope
"Four men converging on a central point via different routes."
more...(external link)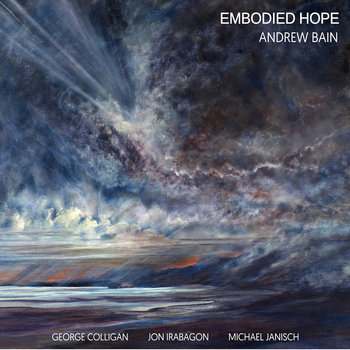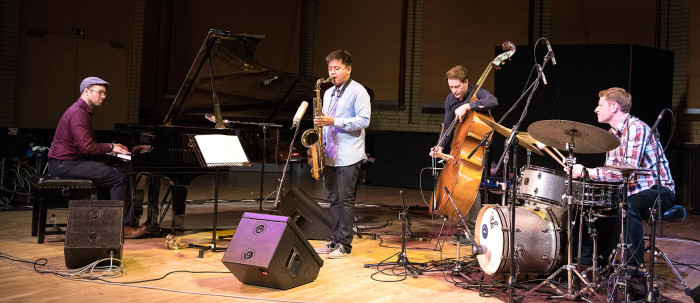 The Jazz Breakfast, John Watson
15 November 2016
Review: Andrew Bain's Embodied hope at The CBSO Centre, Birmingham
"This was a concert full of riches. The quartet had recorded the work the previous day, and the album will be well-worth watching out for."
more...(external link)
Mainly Jazz in Bristol
14 November 2016
Review: Embodied hope - and Phronesis
"High energy drummer Andrew Bain's quartet were stellar individually ... Collectively, they were working at a level often aspired to, rarely achieved."
more...(external link)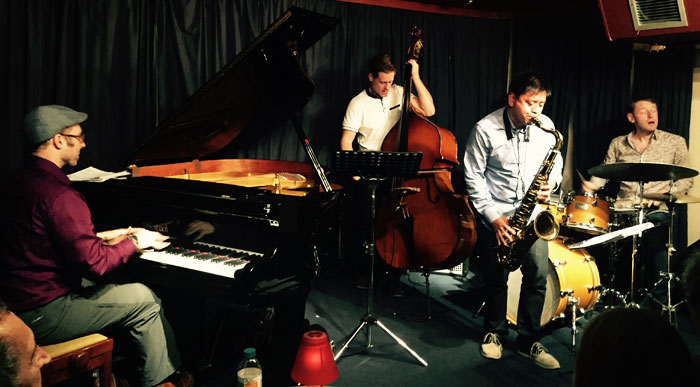 Jazzwise Magazine, Eddie Myer
08 November 2016
Review: Andrew Bain's Embodied Hope Quartet deal in wish fulfilment at The Verdict, Brighton
"This is an outstanding band with seemingly bottomless reserves of energy and excitement and a strong concept driving the leader"
more...(external link)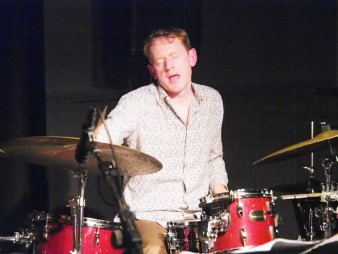 The Jazz Mann, Sean Wilkie
02 November 2016
Review: Andrew Bain's Embodied Hope Quartet, Dempsey's, Cardiff
"Catch them if you can..."
more...(external link)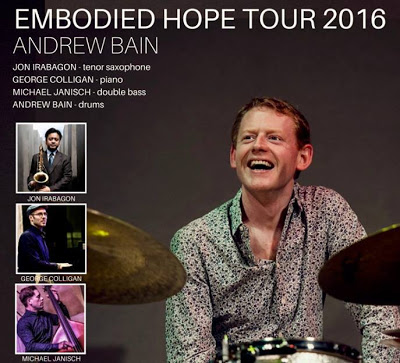 London Jazz News
01 November 2016
INTERVIEW: Andrew Bain (Embodied Hope tour with Jon Irabagon and George Colligan + Whirlwind Recordings album)
"Drummer ANDREW BAIN has a new project involving American musicians entitled "Embodied Hope". Their short but intense(!) tour is just starting."
more...(external link)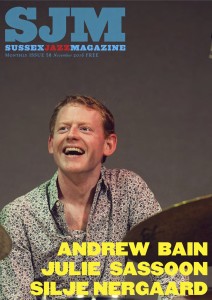 FIRST NIGHT REVIEW
Prom 28: NYJOS/Bain at the Royal Albert Hall
If anyone doubted that jazz is a universal language, the sight of a young saxophonist channelling Johnny Hodges supplied an emphatic response.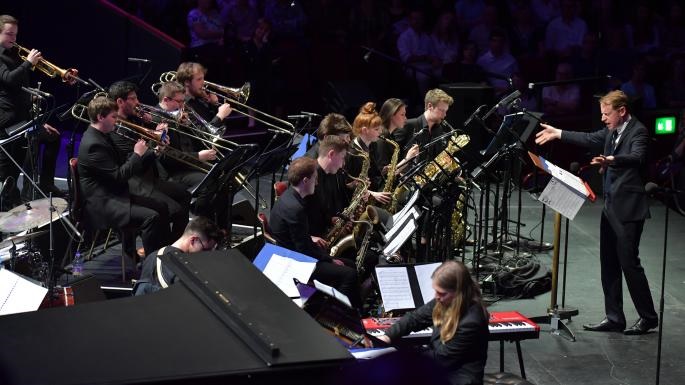 (photograph by Chris Christodoulou)
Andrew Bain prompted a string of idiomatic solos with his energised conducting
The late-night jazz and world music Proms have been a very mixed bag over the past 20 years or so. Sometimes it has felt as if the programmers have been politely going through the motions. This concert, though, was a triumph. If anyone doubted that jazz is a universal language, the sight of a young saxophonist who looked like an extra from a Harry Potter film channelling the spirit of Johnny Hodges supplied an emphatic response.
Duke Ellington and Billy Strayhorn's Shakespeare suite Such Sweet Thunder — chosen as part of the season's celebration of the Bard — was dispatched with authority by an ensemble fitted with an outsize reeds section. Andrew Bain's energised, hand-clapping conducting established an ultra-firm beat and prompted a string of idiomatic solos. The orchestra's front line may have looked an ungainly beast, but it danced with all the verve of a ballroom Lindy hopper.
The guest saxophonist Iain Ballamy, one of the driving forces of the Loose Tubes orchestra, had set the evening off at an elegant pace in a series of pensive miniatures arranged and directed by Malcolm Edmonstone. No big band clichés here: the addition of half a dozen Swingle-style singers added ethereal harmonies.
Ballamy has not lost his appetite for quirky ideas — one piece invited us to imagine a love letter sung by a monkey to Emmeline Pankhurst — but the music, full of crisp melodic lines, had none of the undergrad self-indulgences you associate with the Tubes.
At the end of the evening the focus gradually switched from swing to polished R&B as the ebullient guest vocalist Liane Carroll turned in typically impassioned versions of Witchcraft and You've Got a Friend. For anyone unlucky enough to have caught Paloma Faith's wretched Proms caterwauling a couple of years ago, here was a reminder of what jazzy, blue-eyed soul is really supposed to sound like.
Andrew Bain's Player Piano
I've heard drummer Andrew Bain many times in other people's bands but never as a leader. And what a band to lead! On piano was Gwilym Simcock, on bass Steve Watts, on tenor and soprano saxophones Iain Dixon, and on guitar Mike Walker.
The band name might come from the U.S. author Kurt Vonnegut, but for Bain (a Scot) the concept on this occasion is thoroughly British: musicians from this country playing music composed by Brits, both from within the band but, perhaps more importantly, from the composers who have come to define the very special kind of jazz the UK makes. Within such simplicity of vision lie manifold treats, as we were to hear.
They opened with Mike Walker's Clockmaker, a favourite of mine which Mike has previously contributed to the book of various ensembles, including, of course, The Impossible Gentlemen. This performance was less extensive, a kind of settling down piece for the band and a succinct introduction for the audience.
Dave Holland's Processional followed with the first of a number of fine solos from Iain Dixon, and Walker sounding lovely too – he consistently used a rounder, fatter, more "classic" jazz tone for this band, perhaps to set it aside from the Gentlemen, or to blend more satisfactorily with the saxophone?
Two linked tunes followed from Kenny Wheeler – yes, he was Canadian by birth but, as Bain commented, we think of him as ours: the opening of The Sweet Time Suite and Kind Folk. In the latter Gwilym Simcock built his piano solo up to a sustained state of what I can only describe as ecstatic reverie (I know it sounds contradictory, but that''s music for you) which was absolutely magical. It was one of those rare and extraordinary occurrences – I call them "lift off moments" – that jazz musicians are always striving to reach but, such are the vagaries of the circumstances, the difficulties of the task, the fickleness of the muse, rarely achieve.
Iain Dixon (Photo © John Watson/jazzcamera.co.uk)
When it happens it changes everything that follows, the whole band soars to another level, and they fly higher together. And that's what happened on Sunday in the CBSO Centre – Dixon took up where Simcock left off, and passed the baton on to Walker. And they flew higher and higher. I get chills just recalling it!
Walker's poignant Wallander's Last Stand – with a gorgeously realised slow fall down the piano keyboard at its conclusion – followed and the first set ended with another Wheeler tune, Mark Time. Bain mentioned Walker and Dixon as "the dream team" and it's true. There is a particular warmth which emanates from the stage when these two old friends are together. In fact, this band contains multiple dream teams: Simcock and Walker from the Gentlemen, Walker and Watts from Printmakers, and Walker and Dixon from, well, Walker and Dixon.
The buzz at interval was palpable, the conversations enthusiastic, the heads shaking in mutual agreement and delight – it's so immediately rewarding, the effect of a great band playing great music.
The second set opened with an original from the band leader – though if he mentioned its title I missed it – and Simcock spurring a second lift-off. A quick word about Andrew Bain's drumming. Not only is he a beautiful player, nuanced, subtle, graceful and so, so supportive, but also capable of achieving almost orchestral breadth with his kit. On top of that he makes his drums just sound so bloody good!
John Taylor's Ambleside Days had Dixon and Walker sharing the melody and fine guitar and piano solos, and was followed by Ralph Towner's Celeste – yep, another non-Brit, but Bain justified its inclusion because the version by Norma Winstone is a favourite – with the Simcock touch particularly affecting in a solo intro.
The grand finale came with Walker's Laugh Lines, with its composer turning in a solo of such building excitement he was practically levitating by the end.
The encore was Cole Porter's Everything I Love, a sentiment that echoed perfectly what I felt about this evening. Sure, you might say: so what, isn't this Impossible Gentlemen with an added saxophone? Or Printmakers without a vocalist? And haven't we heard these tunes plenty of times before? Well, I consider this concert something of a calling card from Andrew Bain – he was presenting the British angle this time around, and doing it with great class; next up in 2016 he will be leading a US-angled band which will include Michael Janisch on bass and Jon Irabagon on saxophone. I think as his concept develops the common "Bain factor" will become ever stronger.
Two final points, one general and one very personal.
Isn't it great to see one of our crucial educators at Birmingham Conservatoire out on the bandstand, leading a band, walking the walking to back up all the talking the talk he must do back in the classroom?
And a confession: as a tenor player myself (a not very good one, I hasten to add) I often listen to the great players and wonder who I would most like to sound and play like – in my dreams. And every time I hear Iain Dixon (which is not often enough) I know: he's the one!
(Apologies for the overlong review – sometimes the enthusiasm gets the better of me)
Jazz
Whirlwind festival, Kings Place, London
4 / 5 stars
Arresting sax from Patrick Cornelius was followed by cutting-edge invention from vibraphonist Jim Hart, with bassist Michael Janisch displaying stamina in both sets.
Searingly intense Patrick Cornelius
Michael Janisch was headed for a career in American football until injury drew him back to music, his first love. The expat jazz-bassist, producer, teacher and now festival-director runs the thriving UK indie Whirlwind Records, promoting its three-day Kings Place festival and playing awesomely virtuosic double bass on at least half the gigs: the stamina from those early years of training seems to have held up. Two of Janisch's greatest and most absorbing challenges surfaced in the contrasting bands of New York saxophonist Patrick Cornelius, and in the rhythm-bending trio of British vibraphonist Jim Hart.
Cornelius's alto-sax has an arresting range – softly rounded as a flute on tremor-free long sounds, searingly intense at speed. He began on Saturday afternoon with the staccato and snaking Puzzler (from new album Infinite Blue) and immediately threw its devious demands at his London pianist, Jason Rebello, who characteristically didn't blink, uncorking the first of a string of solos that managed to be headlong and elegant at once. Cornelius was fierce on Puzzler, poignantly fragile on Infinite Blue and In the Quiet Moments (the former in mellow counterpoint with fine American trombonist Nick Vayenas). Eventually, he was explosively uninhibited on the uptempo Regent Street, with Janisch and drummer Andrew Bain fuelling the fire.
Jacqui Dankworth: It Happens Quietly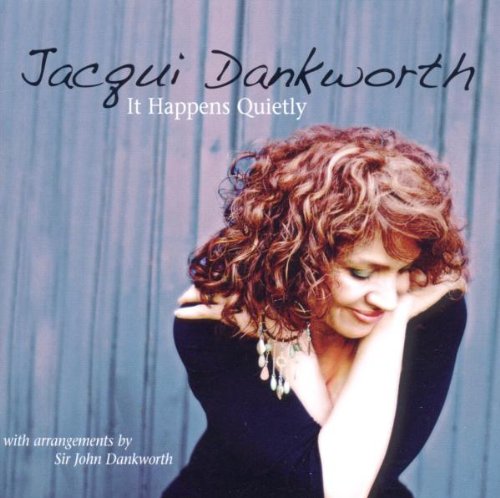 This is as much the late John Dankworth's album as it is his vocalist daughter's. Made just before the composer's death in February 2010, it's devoted to the standard songs he always wanted to record with her, and framed by the creative jazz/classical arrangements that were his signature sound. The final vocals were added after his passing, which may be why these ethereal performances are some of Jacqui Dankworth's most affecting recordings - particularly amid the swoony strings and Tim Garland's soprano-sax lines on the title track. A central sequence of similarly soft, low-lit slow songs (I'm Glad There Is You, A Love Like Ours, My Foolish Heart, Blame It on My Youth) dominate. But the arrangements keep gently twisting the music away from schmaltz, the vocals are devoted and revealing, and the sound of John Dankworth's graceful alto-sax on the strutting The Man is a delicious finishing touch.
The Paul Booth Organ Trio - D'Fly, Cheltenham

You wait ages for an electric organ trio to come along. And then ...
In November Cheltenham Jazz presented Nigel Price's threesome - a setting for his virtuoso guitar playing.
Now here they were with a similar format: star- tenor-saxophonist Paul Booth, organist Ross Stanley and drummer Andrew Bain. And the reaction was ...vive la difference!
Booth's band is very much a band, a thing of inspired empathy. Mind you, one could imagine negative mutterings about his massively sophisticated musical palette.
Instead he produced the opposite reaction. And that was the result of a skilfully planned and varied programme.
And - much more than that - it was due to the brain's capacity to appreciate and enjoy creative complexity, when it comes flying upon a high tide of logic and momentum. No sweat, it was pure enjoyment. .
It certainly helped that Ross Stanley is the UK's leading organist. He did great chunky chord Hammond blues to die for. But more, he had an instinctive flair for his instrument's sound, weaving waves of delcious dissonance into conventional sequences.
Whilst Andrew Bain was a lead player's delight, keeping the beat ever varied and interesting, and anticipating to a hair's breadth, the need for increased dynamics.
A familiar old standard You're My Everything tuned the ear to the trio's approach.
Booth is a composer of note. Three of a Kind offered a bluesy kick, that had the saxist riding evolving waves of rising excitement, and Regatta suggested deeply mysterious voyaging.
A Charlie Mingus ballad and some fire-eating Jaco Pastorious jazz-rock were fine additions to the mix.
A free pint was on offer for anyone who could number the flying time signatures on Cole Porter's, I Love You.
No-one did. But the exhilaration experienced in the attempt, was quite something.
Kenny Wheeler, Jon Irabagon, John Taylor, Michael Janisch, Andrew Bain (Pizza Express Dean Street, February 16th 2011, first night of two)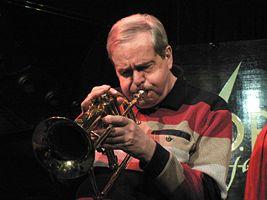 This gig was always going to bring out the best in every player right from the start. Jon Irabagon had written a preview for us saying how much he was looking forward to playing with both Kenny Wheeler and John Taylor. It was the kind of gig which musicians had depped out their other work for, just for a chance to be in the audience. Or in two cases scampered down the whole length of the M1 to get to. It was the kind of gig where a drummer (in this case the ultra-responsive and creative Andrew Bain) will sit down at his kit, roll his shoulders and survey the scene... and find he doesn't have to look beyond the second row of the audience for inspiration - because he's looking straight out at Peter Erskine.
With two exceptions, the tunes were by Kenny Wheeler. Each one of these tunes, with their quirky asymmetries, their irresistible lines, their uplifting sadness has the sheen and durability of a unique diamond. This is music which will still be played in a hundred years' time. The musicians know what a privilege it is to share this music with its creator. You can absolutely feel that sense of occasion, right from the very first note.
Just one example: "The Jigsaw" last night was pure joy. Wheeler and Irabagon followed each other in canon in the tune, then in his solo Kenny Wheeler first toyed with the sinuous melodic figures in the tune, then started to stretch the intervals like elastic, reaching up, extending. Then John Taylor's solo was the poetry of absolute rhythmic freedom. This was musical completeness.
This was the first time I had heard Jon Irabagon live. It is in the nature of the modern player to have absorbed a wide range of influences, but Irabagon knows how to portray voices which are so contrasting, they almost seem to compete with each other for attention. The crowd seemed to take him best to its heart when he was at his most Breckerish, constructing and firing off a profusion of shapes and patterns. But wait, that's just part of the story: there is an Albert Ayler in him who demands to have his say. And maybe even a gutsy Bennie Wallace too. I felt like an autograph-hunter wrong-footed by finding I'd been given more than one signature. He's Othello, but here he is as Iago too. This is definitely my problem rather than Irabagon's. At a first hearing I know that I've heard a lot of different parts, and not yet identified the sum of them, the whole. Which is to say that Irabagon is a fascinating saxophonist who absolutely deserves to be heard.
Bassist Michael Janisch had assembled this fabulous project. Mike deserved every whoop of applause which greeted the end of his bass solos. Contributions like his - both as bassist and as producer - to the musical life of our great city are beyond price. The same quintet is at the Pizza Express tonight. Don't miss it.
The singular Kenny Wheeler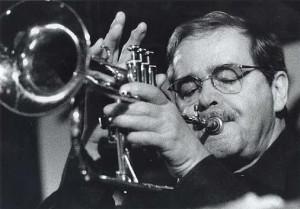 Kenny Wheeler is one of the most inspirational and treasured players on the world jazz scene. The Canadian-born, England-based trumpet and flugelhorn player has enjoyed a long and varied career playing in quintets, quartets, big bands and with strings. He's probably best known for his fine solo albums 'Gnu High' (which featured Keith Jarrett on piano) and 'Deer Wan' on the legendary ECM record label, but also enjoyed a successful and lengthy collaboration with singer and songwriter David Sylvian in the '80s and '90s on albums such as 'Brilliant Trees' and 'Dead Bees on a Cake'. He has also worked extensively with American avant-garde saxophonist Anthony Braxton and in the group Azimuth with vocalist Norma Winstone and pianist John Taylor, who joined Wheeler here at the Pizza Express.
A cliche-free player with a breathy, romantic sound, this was a relatively rare chance to see Wheeler perform in the UK. His elegant, labyrinthine compositions with their tricky chord sequences and shifting harmonies offer a challenge to soloists, but it's worth the effort - Wheeler's catalogue is full of intriguing, original work which defies categorisation.
Now 81, Wheeler stayed seated throughout this set, paying rigorous attention to the sheet music in front of him. He may have lost some puff but still managed to hit his trademark high squeals on 'Old Ballad', eliciting murmurs of approval from his young band. Pianist Taylor was a perfect foil with his instinctive feel for Wheeler's compositions, navigating the potentially treacherous tonalities with shimmering, incisive statements. On 'Cantor No.1', tenor saxophonist Jon Irabagon played a thrilling, rhythmically-loose solo full of fluttering variations on the main theme which then cajoled Taylor into a remarkable polyrhythmic piano assault, kicking the band into high gear and double time. Non-linear drummer Andrew Bain channelled Jack DeJohnette via Brian Blade while bassist Michael Janisch was nothing short of a revelation, burning through this complex music with energy and commitment.
An amusing footnote had John Taylor announcing the band to the audience and being unable to pronounce Irabagon's surname - a pointer that these musicians had met on the bandstand and merely communicated through Wheeler's music, a tribute to these superb players and the power of great jazz.
Kenny Wheeler Quintet, Pizza Express Jazz Club, London

Kenny Wheeler's 80th birthday celebrations last year included a short tour fronting a bespoke big band with an all-original repertoire. This gig put the trumpeter under an equally harsh spotlight. Wheeler's style is demanding in itself - rarely resolving melodies, high interval leaps and oblique, long-sustained notes - but this freshly convened quintet had the extra bite of young American tenor sax tyro Jon Iragabon, whose last album was 90 minutes of continuous improvisation with bass and drums.
Wheeler, playing flugelhorn throughout, delivered his trademark leaps, tone intact, and spun his long, oddly shaped lines with an unerring logic. But what made this gig so engrossing was the sheer quality of the band's performance. The three lead voices were strong, technically assured thematic improvisers, and Michael Janisch on bass and Andrew Bain on drums sailed through the most challenging changes in tempo and mood. And pianist John Taylor was in magnificent, upbeat form, full of urgency and nuance.
Wheeler's compositional palette is made up of complex harmonies and awkward movements. But there is room to investigate the deeper recesses of each structure and discover interesting pathways. Two numbers in, and Taylor was giving each measure a different shade, probing at the pulse and draping riffs with casual precision. And, like Wheeler, he expanded his simple motifs into open-spaced epics, transforming their impact by dropping a note or suspending a chord.
Iragabon was equally assured. He has a rooted, muscular tenor sax sound, ultra-precise articulation and is comfortable in all registers. His first set ballad was an exquisite wrap, his duets with Wheeler sensuously voiced and his free-jazz fire undimmed.
The session-precise first set ended with the dramatic tempo changes of "Canto No. 1". The looser, always engaging second set conjoined brittle tango with a blues waltz, featured Wheeler's "Everybody's Song But My Own" and ended with an upward-sweeping, tempo-shifting swinger. Long improvisations were balanced by ad-libbed duets and a cappella showcases and rhythms tensed and changed shape. It was a terrific gig, with the veteran on his mettle and the band confidently freewheeling through Wheeler's tricky originals.
Are We There Yet?
Tom Rust Trio and the Malcolm Edmonstone Trio (2010)

Leave it to the British to wipe the rust off aging American standards. Or, in this case, an Englishman named Tom Rust. Unlike so many of his Stateside contemporaries, Rust refuses to stick to unwritten rules, avoiding paint-by-numbers renditions of songs that have been covered a million times, often in the same fashion.
Rust's version of "That's Amore" virtually ignores the Las Vegas schmaltz of the Dean Martin original that became the blueprint for countless young jazz vocalists, karaoke singers, and overweight wedding crooners. Rust gives it a modicum of swagger and an abundance of calm self-confidence; it's as if James Bond were handed a microphone and was ordered to seduce a girl at a party, his deep British accent heightening the track's ripe sensuality.
Rust opens the album with "TV Blues", a humorous couch-potato lament that establishes his credo of nonconformity. It's doubtful that many jazz singers, especially one who isn't as established yet, would begin their record with such a witty tune. However, Rust isn't afraid of people not taking him seriously. "Just change the channel/I'm a brand new man," he quips, his dry delivery embedded with a wink and a smile. Of course, it helps Rust that his backing band - the Malcolm Edmonstone Trio - is so effortlessly good. The tinkling piano and pumping bass behind Rust on "TV Blues" is the kind of support that elevates an artist from being merely terrific to absolutely swell.
"Saturday Night" and "Ruby Baby" showcase Rust's after-hours croon, and what a wonder it is to hear, a reverberating melancholy baritone. Rust's most emotionally fragile moment arrives on "I Keep Going Back to Joe's," his wounded voice choking back deep-seated longing. If the British are coming, don't be surprised if Rust leads the charge.
Michael Janisch - Seven Arts, Chapel Allerton, December 9th 2010

AN incredible gig from bassist and bandleader Michael Janisch and his band, built of a careful selection of the top jazz musicians in the UK at this time.
Currently touring promoting his debut release as a leader – Purpose Built – Janisch has gone from strength to strength since emigrating from America in 2005 and secured his position as one of the top bassists in the country.
The first set featured each member of the group and each player stood out with an individual musical voice.
Frontline players Jay Phelps (trumpet) and Paul Booth (tenor sax) – different to one another in their harmonic approach, yet both very lyrical players, who share an exploratory rhythmic diversity in their solos – complemented each other wonderfully; going in very different directions at times, and coming together where appropriate.
A top class rhythm section, with Janisch at its core, driven from behind and pulled along by the relentless Andrew Bain on drums, blended beautifully with the horns.
With vibraphonist Jim Hart creating spacious harmonic textures where appropriate, he proved why he's one of the most in-demand players in the country through his prowess as a soloist.
Janisch's intelligent and musical compositions paired with some arrangements of standards – Billy Strayhorn's Blood Count, Sammy Fain's Love is a many Splendored Thing and Miles Davis' Milestones made for a diverse and eclectic mix of tunes and styles.
The music was heightened greatly by the band's energy in the second set and the great space the music was being created in – with Seven Arts definitely being one of the finest live music venues in this part of the country – making for an great evening of intense and thrilling music.
Michael Janisch's Purpose Built Quintet - Warwick Arts Centre Studio, Coventry, December 11th 2010

Jazz Coventry, the Warwick Arts Centre and the Michael Janisch band clubbed together and bought their audience a rather special early Christmas present last night: a gig as enjoyable as any I have been to this year, and a fine way to end my jazz concert-going of 2010.
There were surprises beneath the wrapping paper – no vibes on the stage and therefore no Jim Hart who was billed to be in the band, but instead a gleaming Steinway and Ivo Neame in as sub to play it. And playing it wonderfully, sight-reading the tunes with little preparation, turning in some blistering solos, full of freshness and originality.
Another treat was Jay Phelps, who I have heard on recordings but never in person. What a player he is, an improviser who really does tell stories in his solos, full of articulate musical sentences, asides, variations in tone and timbre, in speed and atmosphere, raising the temperature considerably in the process.
By contrast I found tenor saxophonist Paul Booth never really caught fire during this substantial two-set evening. It might be that he has perfected a strongly pattern-based way of soloing that adds complexity upon complexity but somehow lacks the means to bring that style to an adequate climax. I always feel when listening to him that my brain has been engaged and my amazement at his instrumental virtuosity triggered, but my heart somehow remains unmoved.
And so to the boys at the back, the leader on double bass (and, briefly, electric too) and Andrew Bain on drums. Heavens, do they get the heart swelling, not to mention the feet stamping and the head bobbing. Janisch said he likes playing with Bain because "he understands my music".
Bain certainly dug in deep, endlessly creative, and so cool he managed, at the end of the evening, to keep the intensity at full throttle while occasionally pulling his high-hat stand back in line.
Janisch, of course, is an unalloyed joy to listen to – funky and fast, so accurate and with such bounce to his notes, equally eloquent in arco mode, a great driver of the band and a great soloist, too. And a very interesting composer. All the material, with the exception of Miles's Milestones and Strayhorn's Blood Count, was by the man himself and all contained beautifully constructed arranged parts as well as great opportunities to for soloing.
It wasn't a huge crowd, so for all of you who didn't get there, let this be a lesson. The next time you see Michael Janisch's Purpose Built on the bill, I don't care whether it's 20 or 100 miles away. Just go!