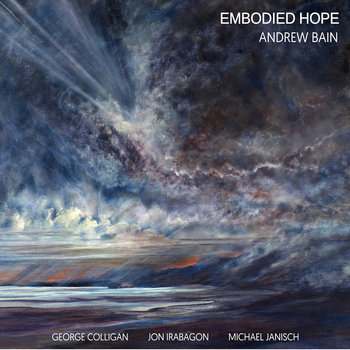 Andrew Bain
Embodied Hope
Whirlwind Recordings (2017)
New routes in musical exploration are at the heart of drummer Andrew Bain's episodic suite, Embodied Hope – a project with pianist George Colligan, saxophonist Jon Irabagon and bassist Michael Janisch.
An influential percussionist and educator based in Birmingham, England (and a first-call sideman both in the UK and the States), Bain's own research has led him to study a concept which seeks to link improvisation with the increasingly topical issues of human rights, community and social transformation. Taking jazz as a metaphor for positive change in the world, and based on seven aspects – listening, surprise, accompaniment, practice, responsibility, trust and, ultimately, hope – this work is defined both by its distinct flexibility of expression and the quartet's ongoing appraisal of what it progressively achieves.
Andrew Bain explains that, rather than counting himself as a composer, he's a writer of music for improvisers: "Like all good music written with improvisation in mind, Embodied Hope starts with an idea and a vibe, as well as melodies, chord sequences, solo sections and as many boundaries as I want to provide. But apart from that, it's all in flux and very much up to the band, even in terms of suite order, solo order, etc. I trust these guys with where they take things – an experimental journey evolving on the road, night after night".
The approach is melodic and full of singable melodies originally conceived at the piano. Each movement is developed from a different perspective, with Bain's intricate though powerful percussion subtly directing group improvisation; so rather than a stated theme and variations, there's individual symbolism in each piece. 'Surprise' begins with a drum spotlight (so a surprise in itself), and then the solos from three written cues start to arrive – not in a traditional way, but by interrupting each other, challenging more conventional song formats. The free, opening section of 'Listening' sounds largely improvised, yet isn't, because it grows out of ten specific lines of melody written in a similar key center (albeit with no set tempo); and the drummer reveals that 'Accompaniment' was originally intended as the ballad, a moment of solace: "But as we rehearsed, it became this classic Coltrane rumble-and-tumble, elevating it with some kind of higher energy. So, importantly, I realised that together we had decided this was something different, and it became the opener to the suite."
Recorded on the twelfth day of a two-week tour of workshops, masterclasses and performances, the session presented its own challenge – after all, how is it possible for improvisers to decide on the definitive version of a constantly evolving work? But it's precisely that captured moment in time from which the sparks of originality fly, whether through Jon Irabagon's rapid sax invention in feverishly-swinging 'Practise', George Colligan's typically artful Steely Dan quote in the solid groove of 'Responsibility' or a theme-tune-like amiability woven into 'Trust'.
Echoing the album title, driving, anthemic 'Hope' synopsizes what has become important to the band in this process – how they have made it relevant to themselves through their social interaction; how the concept has literally been embodied as they have memorized the music; and the positivity arising from what they fashion and develop together. "The best music that I play is with musicians I really trust", says Bain. "Not that it's cosy and we all know what we're going to do, but that we're comfortable to push each other, over and over, with every performance. When you're in that space, there are so many things the music could be… and that's as good as it gets".
Musicians:
Andrew Bain - drums
George Colligan - piano
Jon Irabagon - tenor saxophone
Michael Janisch - double bass
Track List:
1. Accompaniment
2. Hope
3. Practise
4. Responsibility
5. Surprise
6. Listening
7. Trust
8. Hope (Reprise)